Film Scan
Digitize Film in Manhattan, NYC.

Negative film to Digital- Price

What is "Digitize Film" "Film to Digital" or "Film Scan"?


How long does it take for negative films to digital conversion?



The Negative films we can digitize


Film Scan, Digitize Film Q & A

Place an order with us.

Doi Camera Location & Hours - here
Recent testimonial:
"Arrived today, VERY good scans thank you.
I have a few hundred negatives to scan in all together!
I definitely bring in the rest to you!
Thanks again"
Glenn, NY


What good of Digitizing Negative Films ?
| | |
| --- | --- |
| | Archive a life time Film collections on a disc for generations to come. |
| | Enjoy old images on iDevices or Smart Phones. |
| | Emergency preparedness. One DVD could hold a whole life negative images. |
| | For divorce, separation or children's marriage. |
| | A great gift idea for your family members. |
| | Enjoy watching old Films on a big TV, otherwise you will never see them. |
| | Show as a slide show at family functions or parties. |
| | E-mail or share them on Website. |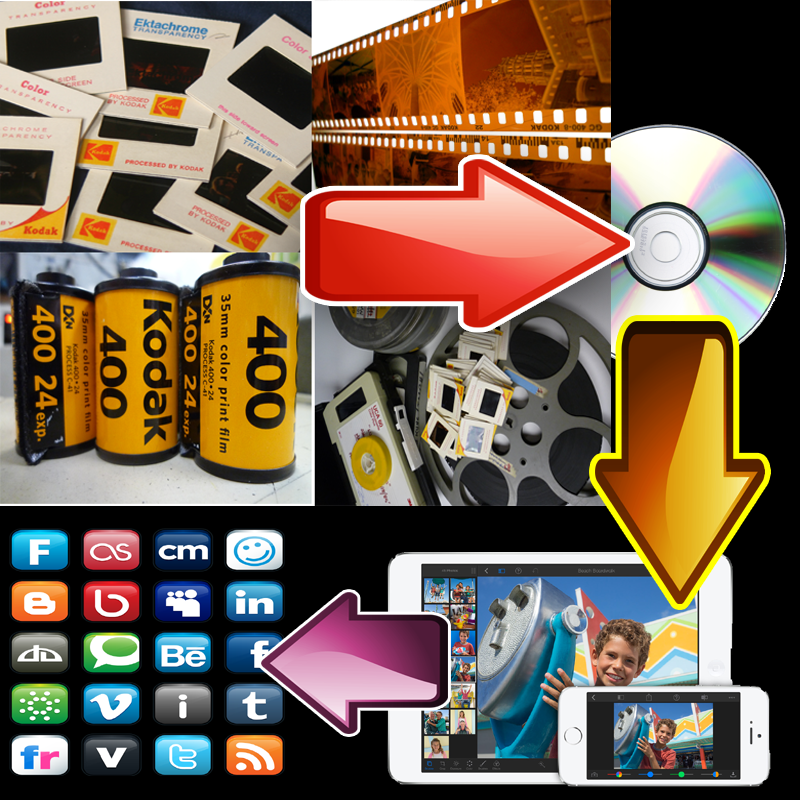 How to select the best photo Scanning option for you - here.

35mm Negative Film Scan

Jpeg File

Tiff File

35mm Negative Film Q'ty

Basic

Hi Res.

Basic

Hi Res.

Minimum Charge

$25.00
$25.00
$25.00
$25.00

1 - 99

0..99 each
1.50
1.50
2.25

100 - 249

0.89
1.35
1.35
1.95

250 - 499

0.75
1.12
1.12
1.68

500 - 999

0.59
0.89
0.89
1.35

1000 and over

0.49
0.75
0.75
1.25

Film Scan Resolutions

2000 dpi

4000 dpi

2000 dpi

4000 dpi

35mm Negative Film pixels (approx.)

1800 x 2700

3600 x 5400

1800 x 2700

3600 x 5400

4 x 6 print equivalent

300 dpi

600 dpi

300 dpi

600 dpi

Scanned file size (approx.)

12 mb

60 mb

12 mb

60 mb

Saved file size on Disc (approx.)

1.5 mb

8 mb

12 mb

60 mb

Minimum charges are $25.00.
Turnaround time
| | |
| --- | --- |
| Q'ty | Turnaround Time |
| 1-25 | Next business day |
| 25-100 | 2- 3 days |
| 100 - 500 | about a week |
| over 1000 | |
Digitizing Negative films are time consuming job.
Please contact us if you need to have digitize negative films by certain time.
We will try to match your schedule best we can.
Copy Negative Film to Digital Options
How to select the best Negative Film Scanning option for you.
Purpose of your photo scanning

Recommended option

Enjoy photos on HD TV, Tablet, Smart Phones, Computers (PC or Mac), E-mail files, upload to Web site (Web page, Facebook), Powerpoint presentation and print up to 5x7 size.

Basic scan in Jpeg.

Hi quality archiving, graphic editing, prints up to 11 x 14 and Projector presentation.


Hi Resolution in Jpeg

Very Good quality.
Hi quality lossless archiving and heavy editing.

Note: Tiff file is not for everybody.
Tiff is NOT for TV viewing, E-mail or Website. Special program required to view Tiff files. Tiff does not work on Tablet or Smart Phone.


Hi Resolution in Tiff
Why are you digitizing Negative Film?
Select your best Negative Film scanning option.


Digitize Negative Film so you can enjoy pictures on a PC or Mac or a big HD TV monitor - Basic plan


Scan Negative Films for documents such as Power Point, Word or PDF file - Basic plan.


Digitize Negative Films for Web sharing (such as Face Book) or E-mail- Basic plan.


Negative Films to print up to 5 x 7 size with no cropping - Basic plan.


Negative Films to print 8 x 10, 8 x 12 up to 11 x 14 size, or Photo Album- Hi Res in Jpeg option.


Project Negative Film image with a Projector at a big room, archiving many Negative Films in good quality - Hi Res in Jpeg option.


Archive best possible quality - Hi Res in TIFF format option. (Tiff format is not suitable for E-mail or Web upload)
More details on Negative Film Scanning Options.
There are two things that you need to take into your consideration.
One is Negative Film Scanning "Resolution", and another is "Digital File Format."
1.

Resolution
DPI stands for Dot Per Inch, more dots per inch means more detailed info is captured when scanning.
Higher is better in general but costs you more. How much more is here.
Negative Films will be scanned at, either 2000 dpi or 4000 dpi.


2.

Digital file format
Either Jpeg or Tiff.
There are many types of "Digital Graphic files", but the most popular digital file formats in Negative Film Scanning world are Jpeg and Tiff.

Jpeg (or often spelled Jpg) file is very popular and good for most people.
Jepg is a convenient format for printing, Web-sharing(such as Facebook, Twitter, Dropbox), E-mail.
You can also enjoy photo show on your big HD TV, using a DVD player.

Tiff file is different from Jpeg file mainly in two aspects.
1. Scanning method is different
2. The way scanned file is saved is different - Jpeg compress the files, Tiff doesn't and keep the original size.

Note: Tiff file is not for everybody.
It is a perfect solution for Hi Resolution Archiving or Photo Graphical Editing purposes.
But Tiff file is too big for E-mail or Web-sharing. It does not play on DVD player as a photo show.
Tiff doesn't work on Tablet or Smart Phones.

3.

Tiff file Negative Film Scan means that digitized scan images will be kept in lossless format throughout the scanning process from the original scanning to the end of saving process.
In other word, from the beginning (digitizing photo image) to the end (file saving), the scanned Negative Film file is kept uncompressed Tiff format.

Jpeg is a compressed file format that after scanned the original file will be compressed to 1/10 to 1/20, and when viewed it will expand to its original file size again.

Jpeg scan vs. Tiff scan is not a matter of how to save the files after scanning, rather, the whole process of scanning is different.

Most consumer grade Negative Film scanners are unable to scan in Tiff (uncompressed file) mode, because each digital file size could is very large.
We've found some companies are offering Tiff Negative Film Scan by scanning in Jpeg and only saving in Tiff format. That's a kind of cheating.

When we offer Tiff Negative Film Scanning, we do scan in uncompressed Tiff mode and save in Tiff.
The scanned digital files remain lossless, uncompressed throughout the process.
Please note:
No refund will be accepted because the CD/DVD we create can be easily copied at home.
We will redo works when quality improvements is possible.


We scan 35mm negative film only.
W e Don't handle: 110 film, 126 film, 127 film or disk film.




Your original negative films will be returned.




We are unable to scan in a particular order.
We are unable to scan your films in particular orders, such as numerical or by date

We are not responsible for each image's direction.



You can rotate the pictures as you like with graphic application on your PC/Mac.


Scan sample images at different resolutions:

see How good is scanning 35mm slide at higher resolution?

35mm Slide Scan Samples

Don't rise your expectation too high.
Negative films have a lot of scratches, dusts, stains, bent, film grains or finger prints.
That's the analog world you were in back then.
Please don't expect scanned film images as clear as digital photos - it never happens.

Negative Film Scan Q&A

I am concerned about my privacy of my Films.

We respect your privacy and confidentiality sincerity and deeply.
Being in photo business over 25 years, protecting customer's privacy is a part of our daily workflow.
To show our sincerity in writing, we have our Confidentiality/Non-Disclosure Agreement Form ready for you.
You can download this form, print your (company) name, sign and dated, then bring the form with your work.
Let us remind you again that none of your Films will be out of our lab, they stay here.

Are my Films returned after the scan?

Absolutely Yes.

Can you scan my Films in particular order?

No we don't scan you Films in particular orders,
Other than the above, we don't scan your Films in particular sequence.
You can change jpg files as you like, once the negative Films are scanned.

What format digital file am I getting on a disk?

Jpeg files.
However we can save in uncompressed Tiff files with 50 % additional charge.
In real world, with these rather small files (6 to 24mb each),
it doesn't make much of quality difference between jpeg and Tiff.

What am I getting for the basic Film Scan plan?

A CD or DVD with all scanned digital image files on.
You can play it on your computer (PC or Mac) and copy it freely.

Can I play the Film Scan CD/DVD you created on my DVD player ?

Most DVD Players can play back CD or DVD disc with Jpg files as a slide show.

What size of Films can you scan?

At this time we are offering 35mm Negative Films scanning service only.

We are still trying to find right price with good quality point on other type of Films.

Does your Film Scan service come with money back guarantee?

No.
Once the CD/DVD is out from our store, it can be easily copied.
As a company policy, we don't accept money back request on any CD/DVD orders.
No exceptions.

How long does it take?

Film scanning services normally take a couple of days to a week.


Since all scanning job is done in our lab,
please let us know if you are in a hurry or dead-on time limit.
We try our best to meet your request with or without extra fee.
Store Information

ID Photos

Digital Conversion

Scan
Doi Camera, New York
All Rights Reserved